Saddle hand-made for the 2012 TCAA exhibition and sale.This modern saddle, with a dark antiqued finish, assumes a magical quality as the metallic gold background is revealed from under the filigreed oak leaf and acorn borders, including the cantlebinding and flank cinch. The leather carving also includes mixed flowers.
Built on a modified Association Tree, it has a 16-inch seat, 7/8 in-skirt rigging, square skirts, brown buffalo hide padded seat, rolled-edge Cheyenne cantle binding and monel stirrups one quarter covered. David Alderson collaborated with the sterling silver conchas, tips and buckles.
---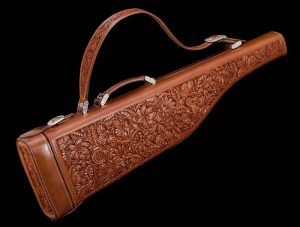 Shotgun Case, leg o'mutton style, molded and hand stitched by Pedro Pedrini and fully carved by Chuck Stormes with mixed California flowers. Scott Hardy added the sterling silver hardware.